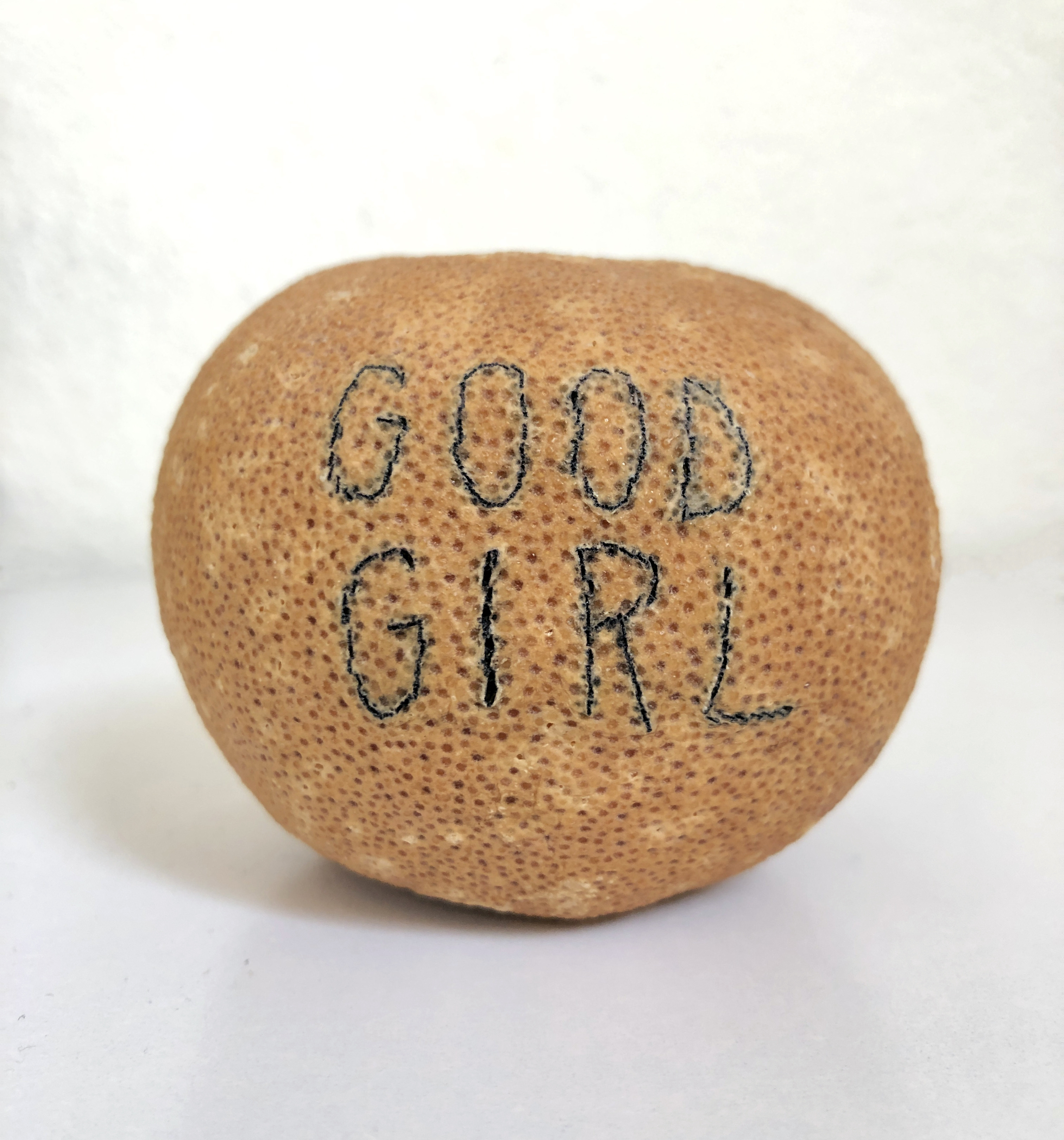 GOOD GIRL, 2018, tattooed and petrified grapefruit, dimensions unstable
Whitney Lynn is an artist who mines visual culture, working with existing materials in an attempt to reframe familiar images, objects, and events. Questioning dynamics of power, her work highlights the mutability of perception, and how historical narratives affect contemporary experience. She works across a multitude of forms, including sculpture, video, performance, photography, drawing, and public projects.

Lynn's work has been exhibited widely, including at the San Francisco Museum of Modern Art, Yerba Buena Center for the Arts, the Corcoran Gallery of Art, Torrance Art Museum, Exit Art, and di Rosa Center for Contemporary Art. She was an artist-in-residence at the de Young Museum, The Neon Museum, Las Vegas, and the Internet Archive, and has produced public art for the San Diego International Airport, alongside the Burke-Gilman trail in Seattle, and on bus bench billboards across Miami. Her work has been supported by the Mellon Foundation and featured and reviewed by media outlets such as NPR, BOMB Magazine, San Francisco Chronicle, Las Vegas Review-Journal, and The Denver Post.

Born on an Air Force Base in Arizona, Lynn attended the San Francisco Conservatory of Music, received her BFA in Sculpture + Extended Media from Virginia Commonwealth University and MFA in New Genres from the San Francisco Art Institute. She currently splits her time between Miami and Seattle and is the Chair of Interdisciplinary Visual Art at the University of Washington.